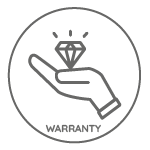 Warranty
Every ONEsolitaire item of jewellery is created using the greatest level of craftsmanship, with certified grading and
traceability. Diamonds above 0.31 ct. are accompanied by a GIA certificate, issued by the world's leading gemmological institute. Further details can be found under the Quality heading.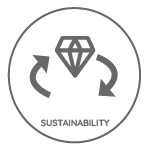 Sustainability and Transparency
For a number of years, there's been growing public awareness relating to the ethical aspects of diamond mining.
This has become a priority, directly impacting the way consumers shop and is one of the main criteria when purchasing
gemstones. Ethical considerations necessitate full and accurate traceability to ensure the legitimacy in the sourcing
and production of all diamonds sold on the market. Each ONEsolitaire diamond is certified and accompanied by
detailed quality-related information regarding the number of carats, colour, purity and cut.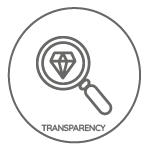 How are traceability and sustainability assured?
Our diamonds are sourced via a network of selected reputable dealers from Antwerp, which is the European centre of
the diamond trade. Based on the information and certification provided by our suppliers, we ensure that our
diamonds are sourced from legitimate sources.